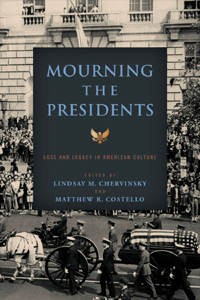 May 1, 2023 – When a president of the United States dies, what does how we memorialize his life and service say about the republic? Our time machine welcomes back Dr. Lindsay M. Chervinsky to give her insights as we discuss "Mourning the Presidents: Loss and Legacy in American Culture," co-written with Matthew R. Costello.
The book includes observation of several scholars, bringing to life a vision shared by the White House Historical Association and the Southern Methodist University Center for Presidential History where Dr. Chervinsky is a senior fellow in addition to her responsibilities teaching about the presidency at the School of Media and Public Affairs at George Washington University.
Dr. Chervinsky last joined us for an interview about her debut book, "The Cabinet: George Washington and the Creation of an American Institution," which earned the Daughters of the American Revolution's Excellence in American History Book Award and the Thomas J. Wilson Memorial Prize.
Visit LindsayChervinsky.com for more or find our guest on Twitter, Facebook, LinkedIn, and Instagram. You can also subscribe to her email newsletter, Imperfect Union, which sends valuable and interesting observations straight to your inbox.
Thanks to presidential historian Louis Picone for submitting a video question for this interview. You can enjoy our three conversations about his special books in our archives.

Podcast: Download (Duration: 49:52 — 114.1MB)
Subscribe: Apple Podcasts | RSS | More