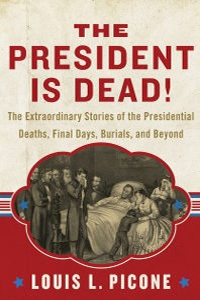 July 17, 2017 – This week, the old-time machine leads a funeral procession, starting at George Washington's crypt at Mount Vernon and ending over 200 years later paying out respects to Gerald R. Ford in Grand Rapids, Michigan. Returning for a second time-travel adventure is Louis Picone, author of: The President is Dead! The Extraordinary Stories of the Presidential Deaths, Final Days, Burials, and Beyond
.
We previously caught up with Louis on Presidents Day at the Church of the Presidents in Long Branch, N.J. to talk about his book, Where the Presidents Were Born: The History & Preservation of the Presidential Birthplaces
. This time, we met at another gem of presidential Jersey Shore history: The Township of Ocean Historical Museum, which calls itself "an open door to history."
If love walking in the final steps or baby steps of our presidents, be sure to like Louis Picone at Facebook.com/LouisLPicone, where he actively shares his enthusiasm for the men who've served in America's highest office.

Podcast: Download (Duration: 57:16 — 131.1MB)
Subscribe: Apple Podcasts | RSS | More