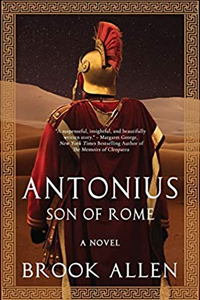 May 3, 2021– Who was the Roman general Marc Antony before he became a legend, before he rose as a man in full, forever linked in history with Cleopatra? We'll meet a boy struggling to redeem his disgraced family name in this week's novel, Antonius: Son of Rome. It's book one in Brook Allen's Antonius Trilogy, followed by Antonius: Second in Command and the conclusion, Antonius: Soldier of Fate.
Brook Allen introduces us to this historic figure before sculptors and Shakespeare got their hands on him, sharing her passion for ancient history, and redeeming a man whose enemies have had their say for 2,000 years.
Brook Allen earned a B.A. from Asbury University and a Master's at Hollins University with an emphasis in Ancient Roman studies, so she has the grounding in facts to really bring this story to life. Visit her at BrookAllenAuthor.com and find her on Twitter or Facebook.
Special thanks to Tonya Mitchell for recommending The Antonius Trilogy. You can find that interview in the archives, where we discuss her Nelly Bly novel, A Feigned Madness.

Podcast: Download (Duration: 54:50 — 50.2MB)
Subscribe: Apple Podcasts | RSS | More