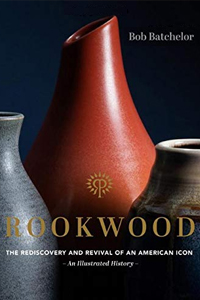 December 14, 2020 – In 1880, Maria Longworth Nichols Storer founded Rookwood Pottery in Cincinnati, aiming to give American artists a place to produce quality pieces to beautify the home, but also practical ceramics and tile.
It grew into a world-renowned success, one that endures to this day.
Spinning the pottery wheel for us is Bob Batchelor who brings us the illustrated history Rookwood: The Rediscovery and Revival of an American Icon — a Publishers Weekly Holiday Gift Guide 2020 Selection.
We previously caught up with Bob to chat about his books The Bourbon King: The Life and Crimes of George Remus, Prohibition's Evil Genius and Stan Lee: The Man behind Marvel. Bob Batchelor is a cultural historian who has written or edited more than two dozen books on popular culture and American literature, including books about John Updike, The Great Gatsby, and Mad Men.
Find him at BobBatchelor.com, on Facebook, or at the Twitter and Instagram handle @BobPBatchelor.

Podcast: Download (Duration: 1:21:47 — 187.2MB)
Subscribe: Apple Podcasts | RSS | More