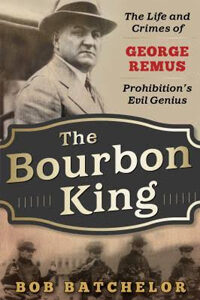 September 9, 2019 – Bob Batchelor introduces us to the boisterous, brass-knuckles bootlegger who quenched Dry America's thirst in the Roaring Twenties. His book is The Bourbon King: The Life and Crimes of George Remus, Prohibition's Evil Genius
. We last caught up with Bob to chat about his book Stan Lee: The Man behind Marvel. You can find that interview in our archives at iHeartRadio, iTunes or wherever you listen to on-demand audio.
In an era that featured names like Capone, Rothstein, Luciano, and Nucky Thompson of Boardwalk Empire fame, Remus broke the mold. A talented lawyer, pharmacist, and social-climbing doctor obsessed over his wife's affair with a G-man, he grew so powerful, he even had President Warren G. Harding in his pocket.
Bob Batchelor is a cultural historian who has written or edited more than two dozen books on popular culture and American literature, including books about John Updike, The Great Gatsby, and Mad Men. He lives in the Queen City of Cincinnati, Ohio, and teaches at Miami University.
Find him at BobBatchelor.com, on Facebook, or at the Twitter and Instagram handle @BobPBatchelor.
Podcast: Download (Duration: 1:04:30 — 147.6MB)
Subscribe: Apple Podcasts | RSS | More