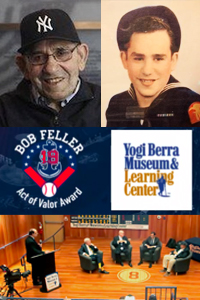 June 13, 2022 – Before he won ten World Series titles with the New York Yankees, Lawrence Peter "Yogi" Berra answered a higher team's calling, to serve his country in World War Two — a role in the Navy that ultimately led him to a rocket ship supporting the Normandy landings.
For June 6, 2022, the 78th anniversary of the 1944 D-Day landings, my column in the New York Sun was titled: "Yogi Berra's War: 'Deja Vu All Over Again.'"  It looked at the famed catcher's service during the Normandy invasion, and spread the word about an event you'll be enjoying in this week's episode.
It's a roundtable discussion held at the Yogi Berra Museum and Learning Center, conducted in partnership with the Bob Feller Act of Valor Foundation. It was titled: Sacrifice & Courage, A Tribute to D-Day.
I was honored to act as moderator for the conversation, which was streamed live to military personnel at posts all around the world and all the ships at sea. Our panel in Little Ferry, New Jersey, on the campus of Montclair State University featured former governor of Mississippi and Secretary of the Navy Raymond Mabus Jr., Rear Admiral Edward "Sonny" Masso (retired), Luke Epplin — author of Our Team: The Epic Story of Four Men and the World Series That Changed Baseball — and Larry Berra, the son and namesake of Yogi.
In this interview, I also recommend a few books that I've had the pleasure of interviewing authors about, that have covered the service of ballplayers and the Normandy Landings. One is about the son of the 26th president, the oldest man and highest-ranking officer to go ashore that day. That book is His Father's Son: The Life of General Ted Roosevelt, Jr., by Tim Brady.
The others are by baseball historian Jim Leeke:
Podcast: Download (Duration: 17:15 — 39.5MB)
Subscribe: Apple Podcasts | RSS | More