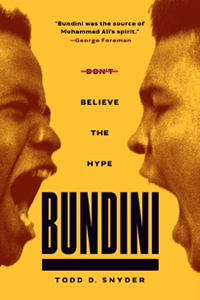 November 16, 2020 – "Float like a butterfly, sting like a bee." The phrase is the stuff of legend, but who wrote that memorable lyric? In this episode, we meet the street poet with a heart of gold, Drew "Bundini" Brown, Jr., one of boxing's most mysterious and misunderstood figures — and the one who motivated Muhammad Ali to be the greatest.
Join us in the corner of Sugar Ray Robinson and the young Cassius Clay as he transforms into a transcendent sports icon. Bundini kept the boxer grounded, sticking by him despite opposition from the Nation of Islam, who tried to bully, bribe and brush him out of the entourage for marrying a Jewish woman. Born in the Jim Crow South, Bundini struggled out of poverty and a broken home, to enlist in the U.S. Navy, appear in several Hollywood films (including the Blaxploitation classic Shaft), and break convention to uplift everyone around him.
Khalilah Camacho-Ali, Muhammad Ali's second wife, said, "When you talk about Bundini, you are talking about the mouthpiece of Muhammad Ali, an extension of Muhammad Ali's spirit. There would never have been a Muhammad Ali without Drew 'Bundini' Brown." This enigmatic figure of the sweet science is the subject of today's biography, Bundini: Don't Believe the Hype.
Bringing us ringside is Todd D. Snyder, an Associate Professor of Rhetoric and Writing at Siena College in Albany, New York, and Ph.D. in Rhetoric and Composition from Ohio University. His previous books include The Rhetoric of Appalachian Identity and 12 Rounds in Lo's Gym: Boxing and Manhood in Appalachia. He's also the son of a boxing trainer where he grew up in West Virginia.
Find Todd D. Snyder online at HillbillySpeaks.com, on Facebook, Instagram, and Twitter.

Podcast: Download (Duration: 1:12:46 — 83.3MB)
Subscribe: Apple Podcasts | RSS | More