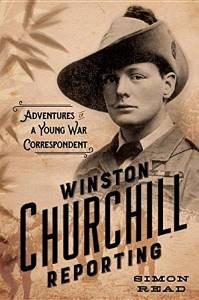 October 12, 2015 – On this episode, we'll visit a key period in Winston Churchill's life, half a century before World War Two. In the late 1800s, Churchill chased adventure in the Sudan, South Africa, India and Cuba, filing dispatches that helped build his resume, and fill his empty wallet.
Simon Read describes a Winston Churchill who's part Indiana Jones, part Ernie Pyle, and part Audie Murphy. It's hard to overstate just how important these years were to creating the Churchill who grew into the Greatest Briton. His command of the English language, his views of war, his respect for enemies and ideas about creating a lasting peace through victory, all started here.
You can follow Simon @SimonReadBooks on Twitter, or visit WinstonChurchillReporting.com for more on this exciting adventure.
Additional books discussed in this episode:
Podcast: Download (Duration: 55:07 — 50.5MB)
Subscribe: Apple Podcasts | RSS | More