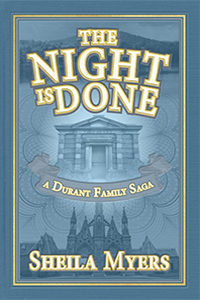 April 9, 2018 – Our time machine travels back to 1931 to conclude the Durant Family Trilogy. Moving on from the Gilded Age, we'll catch up with William and Ella, the adult children of Union Pacific Railroad tycoon Dr. Thomas C. Durant, in the final years of their complicated lives.
Our guest, Sheila Myers, first introduced us to the family in her novel, Imaginary Brightness
, as they had their comfortable lives in London shattered by an economic panic. Book 2, Castles in the Air
, saw the William and Ella locking horns, as their father continued to exert influence on their lives from beyond the grave. In the conclusion, The Night Is Done
, William and Ella cast their eyes back on their lives, and confront the stark truth about their legacy and long-gone fortune.
Sheila Myers is an associate professor at Cayuga Community College, which feeds her passion for the Durant family in upstate New York's Adirondack Mountains. You can follow her on Twitter @SheilaMMyers or visit her online at WWDurantStory.com. And you can listen to our previous interviews on both Imaginary Brightness and Castles in the Air in our archives at HistoryAuthor.com, or wherever you're listening.
Podcast: Download (Duration: 46:16 — 105.9MB)
Subscribe: Apple Podcasts | RSS | More