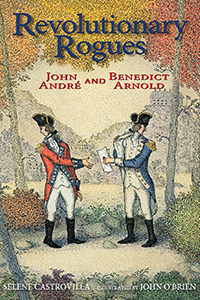 December 18, 2017 – This week — just in time to get stuffed into your young reader's stocking — we travel back to a familiar location, at a pivotal moment in the American Revolution. The year is 1780, when one of the greatest heroes of the Continental Army — General Benedict Arnold — decides to betray the patriot cause by surrendering West Point to the British with the help of British spymaster Major John André.
We talked about these infamous men when we interviewed Robert Norden, tavern keeper at the Old '76 House in Tappan, New York, where patriots kept the captured Andre locked up after his capture and before his execution. You can enjoy that episode in the archives at HistoryAuthor.com or your favorite on-demand audio outlet.
Our guide on this journey is award-winning young adult novelist and nonfiction author Selene Castrovilla who brings us: Revolutionary Rogues: Revolutionary Rogues: John André and Benedict Arnold
. It's the real history behind heavily dramatized stories such as AMC's Turn: Washington's Spies and the smash Broadway musical Hamilton.
Selene's third YA novel Melt
, Book One of the Rough Romance Trilogy, racked up six honors including the Society of Children's Book Writers and Illustrators Spark Award. Revolutionary Friends
, her third nonfiction picture book, earned four awards including Booklist Top Ten Biography for Youth.
Visit our guest at SeleneCastrovilla.com, like her at Facebook.com/Selene.Castrovilla, follow @SCastrovilla on Twitter and SeleneCastrovilla on Instagram. You can also check out the artist behind the images half of Revolutionary Rogues at JohnOBrienIllustrator.com. Lovers of the Marquis de Lafayette can also honor his legacy of Franco-American friendship by joining The American Friends of Lafayette, which Selene spoke about so passionately in this episode.

Podcast: Download (Duration: 58:38 — 134.2MB)
Subscribe: Apple Podcasts | RSS | More