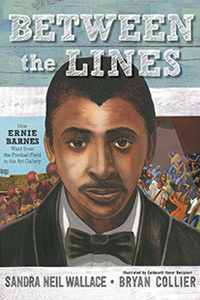 February 12, 2018 – For Black History Month, our time machine piles readers 4 to 8 years old into their car seats, and introduces them to a hero who overcame segregation and many other obstacles, to pursue his artistic dream — and that's after being a star NFL player.
Returning to the show is Sandra Neil Wallace, who last joined us with her husband and co-writer Rich Wallace to discuss their books Bound by Ice: A True North Pole Survival Story and Blood Brother: Jonathan Daniels and His Sacrifice for Civil Rights. You can hear those conversations in our archives at HistoryAuthor.com or wherever you catch the show.
Sandra's latest book is titled Between the Lines: How Ernie Barnes Went from the Football Field to the Art Gallery
. In it, young readers will find the story of a pro-football player, brought to life with by Sandra's prose and Bryan Collier's watercolors. Bryan Collier is an award-winning illustrator, whose art won first place in a 1985 congressional competition and later earned him a scholarship to New York City's Pratt Institute.
Watch him draw at this Facebook Live event or check out his work at BryanCollier.com.
You've seen Sandra Neil Wallace's work as a news anchor and ESPN sportscaster, and you'll recall that she was the first woman to host an NHL show on network television. Visit her at SandraNeilWallace.com, @SandraNWallace on Twitter and Facebook.com/SandraNeilWallace.
Podcast: Download (Duration: 47:51 — 109.5MB)
Subscribe: Apple Podcasts | RSS | More