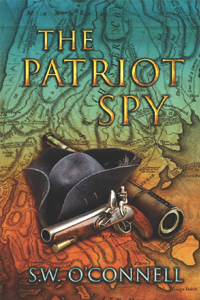 July 2, 2022 – Who were the citizen spies who risked their lives to bring General George Washington the intelligence he needed to win the War for Independence? In this episode, we take a fictional trip back to the American Revolution, to meet the people who fought for liberty with their wits and secrecy, not muskets and cannon.
Our guide on this journey is S.W. O'Connell who brings us, The Patriot Spy, Book One of the Yankee Doodle Spies Series, followed by Book 2, The Cavalier Spy, and Book 3, The Winter Spy.
S.W. O'Connell is a retired U.S. Army intelligence officer who has served in a wide variety of counterintelligence assignments around the world. Upon retirement, he decided to mix his love and study of history with his military experiences to craft historical novels.
Visit him at Yankee Doodle Spies Dot Blog Spot Dot Com, on Facebook, or @SWOconnell on Twitter.
Special thanks to Thomas J. Howley for submitting a video question for this interview. Watch or listen to the History Show interview about his novel Wolf of Clontarf: The Irish, the Vikings and the Foreigners of the World.

Podcast: Download (Duration: 1:03:13 — 57.7MB)
Subscribe: Apple Podcasts | RSS | More