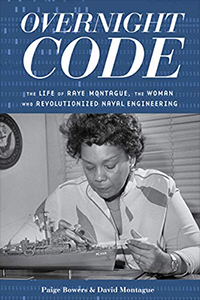 February 8, 2012 – The U.S. Navy builds modern marvels: 100,000-ton hunks of metal that glide across the ocean rather than sinking like rocks. But how do they do it? The short answer is "computers." But it was Raye Montague who first designed a ship with that technology, doing so as a single mother during the height of the Cold War, and as a Black woman born into the segregated Little Rock of 1935. She literally let nothing stand in her way.
We meet this inspirational trailblazer in Overnight Code: The Life of Raye Montague, the Woman Who Revolutionized Naval Engineering thanks Raye's son, David R. Montague, and his co-author, Paige Bowers, who  previously stopped by to chat about her debut book The General's Niece: The Little-Known de Gaulle Who Fought to Free Occupied France. You can enjoy that conversation in our archives wherever you're listening now.
Paige Bowers holds a master's degree in modern European history and taught about French history and culture at Louisiana State University. David R. Montague earned a Ph.D. at Howard University and a BA at Morehouse College, both in Political Science, as well as an MA in Crime and Commerce at George Washington. He's the director of online learning and faculty mentoring at the University of Arkansas at Little Rock.

.
Podcast: Download (Duration: 1:04:20 — 58.9MB)
Subscribe: Apple Podcasts | RSS | More