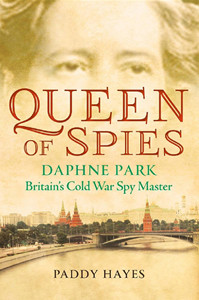 February 29, 2016 – Our time machine for this trip is tricked out like James Bond's Aston Martin, and we're speeding back to the height of the Cold War. Our driver on this journey is Paddy Hayes, who was kind enough to call into the show from Dublin, Ireland. His book is Queen of Spies: Daphne Park, Britain's Cold War Spy Master.
Until this book, no biography has been written about Daphne Park's incredible contributions to the crown at a time when the intelligence services were still very closed to women. From helping prepare for the D-Day landings to shoring up the Falkland Islands' defense, her adventures included being thrown into a pit, swimming the chilly Volga River to escape the KGB, and threats of execution. "I must have been arrested and condemned to be shot several times," she said. "It was a hazard that I got used to."
Daphne Park was Britain's top woman spy, the most senior lady in MI6, a spitfire who people said once met, was never forgotten.
Podcast: Download (Duration: 35:25 — 32.4MB)
Subscribe: Apple Podcasts | RSS | More