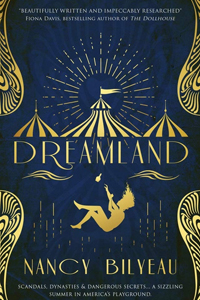 April 6, 2020 – Pack your full-body swimsuit, everybody. We're headed for Coney Island in the summer of 1911, where we'll meet a young heiress, Peggy Batternberg. Peggy falls in love, dives into the seedy world where the other half lives, and stumbles upon the mystery of young women found murdered under the boardwalk.
Our time machine travels back to America's Playground, Coney Island, Brooklyn, with "writer, editor, and lover of words" Nancy Bilyeau, who brings us Dreamland. It's Nancy's fifth novel, following The Crown, The Blue, The Chalice, and The Tapestry. She also published a novella, The Ghost of Madison Avenue. Nancy's family tree traces back to a seed planted on Gotham's shores in 1665, when French Huguenot Pierre Billiou put down roots in what was then New Amsterdam.
Today, the stone house he built on Staten Island stands as the third oldest in New York State.
For more on our guest, visit NancyBilyeau.com, follow her on Twitter and Instagram @TudorScribe, or toss her like at Facebook.com/NancyBilyeauAuthor.
Podcast: Download (Duration: 1:20:35 — 184.4MB)
Subscribe: Apple Podcasts | RSS | More