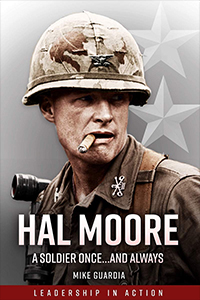 November 21, 2022 – If you could ride along in a Humvee with one of the most admired American combat leaders of the last half century, what would you hope to learn?
In this episode, our time machine welcomes back internationally acclaimed military historian and U.S. Army veteran Mike Guardia. We last caught up with Mike to discuss his book, Skybreak: The 58th Fighter Squadron in Desert Storm.
Mike returns to discuss his acclaimed biography of Lt. Gen. Hal Moore, titled, Hal Moore: A Soldier Once…and Always. Mike Guardia served six years on active duty as an Armor Officer and got to know his subject, whose leadership you may recall from the Mel Gibson's portrayal in the film We Were Soldiers.
Visit our guest at MikeGuardia.com, or on Facebook, Twitter and LinkedIn.
Podcast: Download (Duration: 55:08 — 126.1MB)
Subscribe: Apple Podcasts | RSS | More