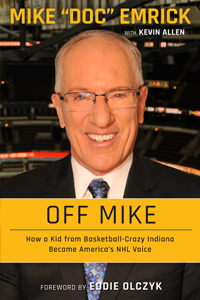 January 11, 2021 – In 2017, Sports Illustrated named Mike "Doc" Emrick the greatest sportscaster of all time. But how did a kid from a tiny town in the American Midwest, grow up to be a voice synonymous with Canada's game, the first media member inducted into the U.S. Hockey Hall of Fame, a TV heavyweight, and the winner of eight Sports Emmys?
How did Doc sound just as excited about the 10,000th goal he saw, as he did when he was a boy in the 1950s, watching the Fort Wayne Komets put the biscuit in the net for the very first time? We get those insights in his memoir, Off Mike: How a Kid from Basketball-Crazy Indiana Became America's NHL Voice.
In a career that spanned 47 years, Doc had stops everywhere from ESPN and CBS, to Fox, SportsChannel, MSG, NBC, and beyond. He survived prostate cancer along the way, and spent 5,000 nights away from his beloved wife, Joyce. They've certainly earned their retirement. The Emrick's are also lovers of all creatures great and small. In fact, Doc is donating proceeds from sales of Off Mike to animal charities.
The History Author Show will be dropping the gloves to fight for animals in need alongside Doc and Joyce. Amazon gives us a portion of every book you purchase through their links on this page. We'll be matching triple that amount times three and donating to pets in need. So if you're thinking of picking up a copy of this inspiring, entertaining memoir, please consider doing it through us.


Podcast: Download (Duration: 1:20:02 — 183.2MB)
Subscribe: Apple Podcasts | RSS | More