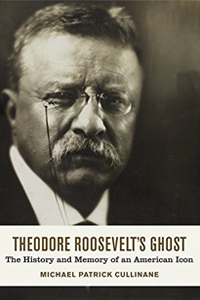 October 4, 2021 – Theodore Roosevelt is invoked in contemporary politics so often, it's easy to forget that he died in his bed 100 years ago. So who was the real flesh-and-blood man, and what would he think of his evolution into a mythical folk hero?
Our time machine travels back, to meet the real TR with Michael Patrick Cullinane, author of Theodore Roosevelt's Ghost: The History and Memory of an American Icon, winner of the coveted TR Book Prize.
Michael Patrick Cullinane is professor of U.S. history at Roehampton University in London, and the author of previous books, as well as the upcoming title Remembering Theodore Roosevelt: Reminiscences of his Contemporaries. He also hosts The Gilded Age & Progressive Era podcast. Find him on Twitter and LinkedIn.

Podcast: Download (Duration: 54:58 — 125.8MB)
Subscribe: Apple Podcasts | RSS | More