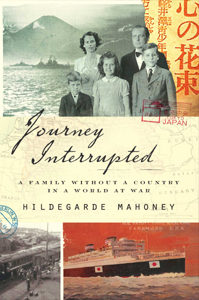 July 25, 1016 – This week, Hildegarde Mahoney shares her memoir, Journey Interrupted: A Family Without a Country in a World at War
. In 1941, seven-year-old Hillie and her family left home in New York City and set off for their native Germany. They planned to take the safe and scenic route: Across the U.S., the Pacific, and Eurasia via the Trans-Siberian Railway.
But then Hitler betrayed his alliance with Stalin, the family found themselves stranded in Yokohama, Japan — and when the empire attacked Pearl Harbor, there was no going back.
Today, Hildegarde Mahoney has worn many hats in her life — and one crown. She was Miss Rheingold, 1956. Today, she is the chairman of the Harvard Mahoney Neuroscience Institute. You can sign up for their free, quarterly newsletter right here, and be on the cutting edge of brain science when you or someone you love is impacted. As Mrs. Mahoney says, "No family goes untouched."

Podcast: Download (Duration: 39:56 — 36.6MB)
Subscribe: Apple Podcasts | RSS | More