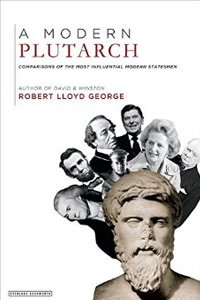 April 3, 2017 – This week, our time machine compares some of the Western world's big thinkers. Centuries ago Plutarch, the Father of Biography, wrote Lives of the Noble Greeks and Romans to reveal new insights about their careers by making comparisons. Robert Lloyd George applies this method to our time in A Modern Plutarch: Comparisons of the Greatest Western Thinkers
, using the United States and United Kingdom, in place of Greece and Rome.
Mr. Lloyd George is the great-grandson of David Lloyd George, who served as Britain's prime minister during the Great War, was the architect of its social welfare system, and led the redrawing of maps after the Armistice.  Modern listeners may have seen our guest's extensive writings on global economics across the East-West divide, and may have read his previous books including David and Winston
, contrasting his great-grandfather with Churchill.
Podcast: Download (Duration: 36:52 — 84.4MB)
Subscribe: Apple Podcasts | RSS | More