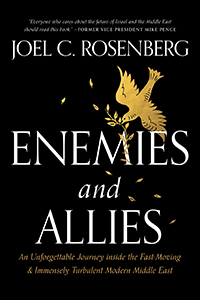 September 20, 2021 – In 2020, we saw one what was long called impossible: Peace deal after another between Arab states and Israel in the Abraham Accords. What do the leaders of these nations see for the future, and how can we foster it by better understanding the past?
Joel C. Rosenberg has seen history unfold firsthand and spoken personally to the men changing their corner of world by beating swords into plowshares. Joel's latest book after a string of New York Times bestselling novels and non-fiction books is Enemies and Allies: An Unforgettable Journey inside the Fast-Moving & Immensely Turbulent Modern Middle East.
In it, Joel shares exclusive, never-before-published quotes, insights, and analysis from his conversations with some of the most complex and controversial leaders in the world including Benjamin Netanyahu (who he worked for as a strategist), Saudi Crown Prince Mohammed bin Salman, Egypt's President Abdel Fattah el-Sisi, Jordan's King Abdullah II and many others.
Visit JoelRosenberg.com or check out Joel's Fast Traffic Blog where he track "events and trends in Israel, the U.S., Russia and throughout the Epicenter (the Middle East & North Africa)." He's also editor-in-chief at All Arab News and All Israel News. His social media accounts are at Twitter, Facebook and LinkedIn.

Podcast: Download (Duration: 1:08:56 — 157.8MB)
Subscribe: Apple Podcasts | RSS | More