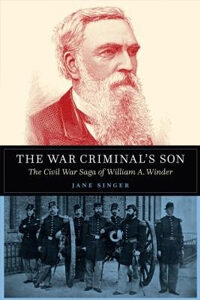 September 23, 2019 – What if your family name was infamous? What if you were the only loyal American in a clan where everyone — even your little, old grandmother — backed treason? Jane B. Singer introduces us to just such a man in The War Criminal's Son: The Civil War Saga of William A. Winder
. It's the true story of Confederate General John H. Winder and his son, Union Captain William Andrew Winder, who served as prison commandants on opposite sides of the Mason-Dixon line.
Jane previously joined us to chat about another book from the period, Lincoln's Secret Spy: The Civil War Case That Changed the Future of Espionage. She is a Civil War scholar and author of The Confederate Dirty War, the basis of the History Channel special, Civil War Terror. Visit her online at JaneSinger.com, follower her on Twitter @JaneBSinger1, or toss her a like on Facebook at Jane Singer Author.
Podcast: Download (Duration: 1:09:01 — 158.0MB)
Subscribe: Apple Podcasts | RSS | More