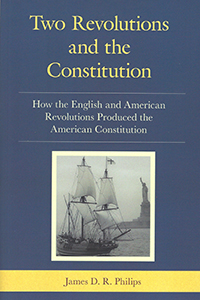 June 27, 2022 – How did revolutions in the two great English-speaking nations — the United States and the United Kingdom — give birth to the American Constitution, and what does its creation have to tell us about the challenges we face over 200 years since its ratification?
In this episode, we dig into those questions, traveling back to when it all started with James D. R. Philips, a lawyer and visiting lecturer at the University of Sydney's Law School in Australia. His book is Two Revolutions and the Constitution: How the English and American Revolutions Produced the American Constitution.
In the interview we discussed the dispersion of power that makes the U.S. government almost coup-proof, as well as the New York Sun column where I quoted James Philips: It's Dangerous for January 6th Hearings To Portray Our Republic as a Fabergé Egg.
Visit our guest at JamesPhilips.net, or on Twitter and Facebook.

Podcast: Download (Duration: 1:05:14 — 59.6MB)
Subscribe: Apple Podcasts | RSS | More