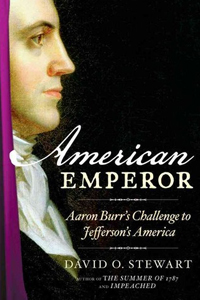 July 8, 2016 – On Monday, July 11, 2016, we'll commemorate the tragic death of one Founding Father — Alexander Hamilton — at the hands of another, Vice President Aaron Burr. With "Hamilton: An American Musical" racking up Tonys on Broadway, the face on the $10 bill is more popular than he has been in 200 years. But in this episode, David O. Stewart introduces us to the man who pulled the trigger.
Mr. Stewart is president of the Washington Independent Review of Books and author of American Emperor: Aaron Burr's Challenge to Jefferson's America
. And since we are looking ahead to the 212th anniversary of the Burr-Hamilton Duel, those of us in the Greater New York City area won't want to miss the annual gathering at the Hamilton Memorial overlooking the Weehawken Dueling Grounds in New Jersey, just across the Hudson from Manhattan.
The Alexander Hamilton Awareness Society (AHA!) will commemorate the event at 6PM, with the theme of Celebrating the New Generation of U.S. Currency. Douglas Hamilton, 5th great-grandson of Alexander, will speak at the Hamilton Memorial Bust, a year after his successful call to preserve Alexander's place of honor on the $10 bill.
If you can't get enough of our charismatic first Treasury Secretary, enjoy our previous interview with Stephen F. Knott, co-author with Tony Williams of Washington & Hamilton: The Alliance that Forged America
. You can also find the man of the hour in our previous chat with David O. Stewart about Madison's Gift: Five Partnerships that Built America
.  We also sat down with Daniel L. Mallock on his book, Agony and Eloquence: John Adams, Thomas Jefferson, and a World of Revolution
.  And if you're still hungry for more, visit the Old '76 House with us in Tappan, New York, the oldest bar and restaurant in the U.S. where Alexander Hamilton lived upstairs and Benedict Arnold's British conspirator was held before his execution.
We also shared history news of our own: Amanda has earned a James Madison Memorial Fellowship. The scholarship that will enable her to complete a master's degree in history with a focus on Constitutional studies. She's also been noodling with producing a film series on visiting the key year of 1787. You can book your ticket at Facebook.com/PastimeSeries, and visit the period in print through David O. Stewart's: The Summer of 1787: The Men Who Invented the Constitution
.
Hamilton was so much more than the man who "wound up on the wrong end of a gun," as the Allman Brothers Band sang it, and Aaron Burr was so much more than man who pulled the trigger. Thanks to David O. Stewart for joining to paint the full picture of the man who would be American Emperor.
Podcast: Download (Duration: 49:58 — 45.8MB)
Subscribe: Apple Podcasts | RSS | More