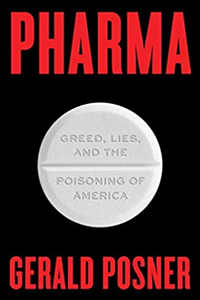 June 15, 2020 – Investigative journalist and attorney Gerald Posner shares the highpoints of the pharmaceutical industry's transformational successes, as well the moments they'd prefer to keep buried. We go along for the ride in his latest book, Pharma: Greed, Lies, and the Poisoning of America
. It's a page-turning journey to meet the scientists whose successes have improved the lives of every human being on earth, and the marketers who gave us infamous scourges like Thalidomide and the opioid crisis.
Yes, for every polio vaccine, there are those who lose sight of their noble mission to first do no harm, in the face of massive piles of corrupting cash and compliant congresses that are more lap dogs than watch dogs.
Gerald Posner is a distinguished attorney, Phi Beta Kappa and Summa Cum Laude graduate of the University of California at Berkeley, and an Honors Graduate of Hastings Law School. He's written definitive books on everything from the Nazi "Angel of Death" Josef Mengele, the Oklahoma City Bombing, 9/11, and Motown, to the JFK and Martin Luther King, Jr. assassinations. He previously appeared on the History Author Show to discuss his 2015 book, God's Bankers: A History of Money and Power at the Vatican.
We also welcomed Gerald's wife and research partner, Trisha, who shared the story behind her chilling biography, The Pharmacist of Auschwitz: The Untold Story.
Visit Posner.com for more on our guest, and follow him @GeraldPosner on Twitter, Facebook, and Posnergram on Instagram.
Podcast: Download (Duration: 1:12:14 — 165.3MB)
Subscribe: Apple Podcasts | RSS | More