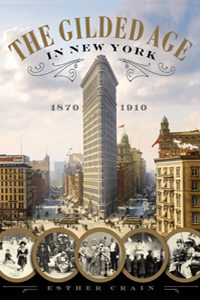 March 26, 2018 – It's a special episode, recorded live on the campus of New York University at the Joint Journalism and Communication History Conference, co-sponsored by the American Journalism Historians Association and the History Division of the Association for Education in Journalism and Mass Communication.
The spot at No. 20 Bowery is in sight of the Cooper Union where Abraham Lincoln gave the 1860 speech that launched him into the presidency, and steps from 114 Bowery, where Steve Brodie bragged about jumping off the Brooklyn Bridge. It's also just a few blocks from Manhattan's oldest bar, McSorley's Old Ale House, familiar to those of you who enjoyed my chat with Rafe Batholomew on his memoir Two and Two: McSorley's, My Dad, and Me.
Joining me at NYU is of my all-time favorite time-travelers, Esther Crain, the great and powerful Oz behind the wildly popular blog, Ephemeral New York, which runs under the tagline: "Chronicling an ever-changing city through faded and forgotten artifacts." Esther is also the author of 2014's New York City in 3D In The Gilded Age, a box set that not only offered a book with Esther's sharp writing and rare images compiled by the New-York Historical Society, but also a Stereoscopic Viewer to bring the turn of the last century to life in three dimensions.
Esther has spent 15 years writing and editing for top consumer magazines and health/lifestyle websites including Cosmopolitan, Self, Shape, Glamour, Women's Health, and Health magazines. Now she's back on our bookshelf with The Gilded Age in New York, 1870-1910
. Visit her blog at EphemeralNewYork.Wordpress.com, where you can sign up for emails of each new article she posts. You can also follow her @EphemeralNY on Twitter or like her on Facebook page.
Special thanks for this installment goes to Nick Hirshon of William Paterson University and Pamela Walck of Duquesne University for inviting us to close out the JJCHC.

Podcast: Download (Duration: 57:02 — 130.5MB)
Subscribe: Apple Podcasts | RSS | More