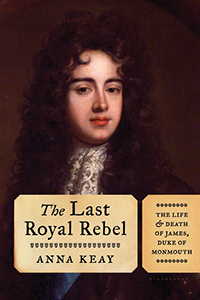 March 13, 2017 – This week, we step into the Tardis, and travel back in time to a United Kingdom facing a rebellion in the late 1600s. The leader of this uprising to seize the crown is Charles II's illegitimate son, James Scott, 1st Duke of Monmouth. He's the sort of figure we love: One wronged by generations of falsehoods, until a dedicated historian tells the true story.
That author is Dr. Anna Keay, and the book that sets the record straight is The Last Royal Rebel – The Life & Death of James, Duke of Monmouth
. Dr. Keay earned her PhD on court ceremonial in the reign of Charles II at the University of London, and is director of the Landmark Trust, a charity that rescues historic buildings and turns them into places for all of us to holiday among the memories of our past.
You can find her at AnnaKeay.co.uk or @AnnaLandmark on Twitter, and plan your next holiday in the past, at the Landmark Trust.

Podcast: Download (Duration: 51:09 — 51.3MB)
Subscribe: Apple Podcasts | RSS | More