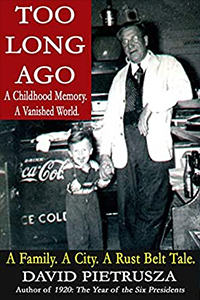 March 8, 2021 – What happens when a legendary historian aims his keen eye in the rearview mirror, examining the places, people, and experiences that made him a great storyteller? Well, when the historian is David Pietrusza, the answer is the rich, funny and poignant memoir Too Long Ago: A Childhood Memory. A Vanished World.
Before returning us to the Amsterdam, NY, of Upstate New York in the 1950s and '60s, David Pietrusza wrote or edited a treasure trove of books and has appeared everywhere from C-SPAN and the History Channel, to ESPN and Fox Sports Channel, as well as too many fine radio shows to list. He is also featured on AMC's Making of the Mob: New York. It's easy to see why he's been called "one of the great political historians of all time."
David Pietrusza has sat down with me to discuss four of his previous books, interviews which you can find in our archives or below. They are:
For more, visit @DPietrusza on Twitter or DavidPietrusza.com.

Podcast: Download (Duration: 1:14:58 — 68.5MB)
Subscribe: Apple Podcasts | RSS | More