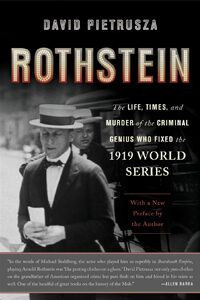 October 21, 2019 – Our time machine travels back to the Jazz Age, where we'll meet gambling mastermind Arnold Rothstein, whose lust for a sure thing inspired the most audacious and infamous scam in sports history: Fixing the World Series 100 seasons ago.
The Chicago White Sox took a dive on baseball's biggest stage against the Cincinnati Reds in the infamous "Black Sox" Scandal, in a scheme manipulated by A.R. (known as "The Brain" and "The Big Bankroll"), who spread cash around to everyone from bookies and judges to cops and politicians.
Returning to share his Cracker Jack historical wisdom is David Pietrusza, who brings us his award-winning book, Rothstein: The Life, Times, and Murder of the Criminal Genius Who Fixed the 1919 World Series
. We last chatted with the legendary historian about his latest title, TR's Last War: Theodore Roosevelt, the Great War, and a Journey of Triumph and Tragedy.  You can find that interview at HistoryAuthor.com, iTunes, our iHeartRadio Channel, or wherever you enjoy on-demand audio.
David Pietrusza has written or edited enough best-selling, award-winning books to fill the visiting dugout, including those on the pivotal presidential election years 1920, 1932, 1948, and 1960.  He's appeared everywhere from C-Span and the History Channel, to ESPN and Fox Sports Channel. He's also featured on AMC's Making of the Mob: New York. It's easy to see why he's been called one "one of the great political historians of all time."
This interview was conducted at Historic Albany Rural Cemetery, after the October 5, 2019 ceremony marking President Chester A. Arthur's 190th birthday. Watch David Pietrusza's remarks at his grave site here.
Follow him @DPietrusza on Twitter and visit DavidPietrusza.com for more.
Podcast: Download (Duration: 1:17:50 — 178.1MB)
Subscribe: Apple Podcasts | RSS | More