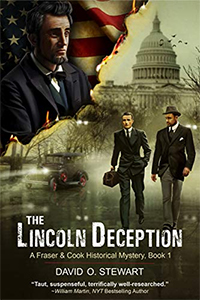 May 4, 2020 – What if a former U.S. congressman told you he had a secret about the most infamous presidential assassination, but died before revealing it? It's a turn-of-the-century whodunit, courtesy of historian David O. Stewart's novel, The Lincoln Deception (A Fraser and Cook Historical Mystery)
.
His Holmes and Watson team features the white Dr. Jamie Fraser, and African-American former baseball player, Speedwell Cook. We previously chatted about his non-fiction books, American Emperor – Aaron Burr: The Man Who Shot Alexander Hamilton, and Madison's Gift: Five Partnerships that Built America. Check out those interviews in our archives, visit our guest at DavidOStewart.com, and find him on Facebook.
You'll also enjoy his post-Civil War non-fiction exploration of the man who found himself president after Lincoln's murder: Impeached: The Trial of President Andrew Johnson and the Fight for Lincoln's Legacy. On that topic, he was recently featured in the documentary, Going to the Devil: The Impeachment of 1868, presented by The Great Courses at Hunter College. You can enjoy the Film Screening & Discussion on YouTube.
Look for the next books in the series — The Paris Deception and The Babe Ruth Deception — coming in the summer and autumn of 2020.
Podcast: Download (Duration: 53:56 — 123.5MB)
Subscribe: Apple Podcasts | RSS | More