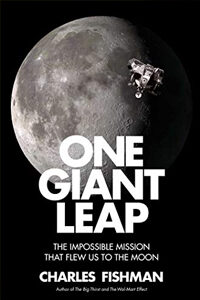 August 12, 2019 – Our time machine boldly goes where no man has gone before, fulfilling President John F. Kennedy's 1961 challenge to put an American on the moon and return him safely to earth by the end of that decade. Half a century after NASA fulfilled JFK's vision in the summer of 1969, we look back at the long road of 10,000 small human steps and giant technological leaps, that led to Neil Armstrong stamping his footprint in the lunar dust.
Guiding our voyage from Mission Control is Charles Fishman, author of… One Giant Leap: The Impossible Mission That Flew Us to the Moon
. Charles Fishman has earned three Gerald Loeb Awards, the most prestigious prize in business journalism. He's also the acclaimed author of The Wal-Mart Effect
and The Big Thirst
, as well as co-author of A Curious Mind
with Academy Award-winning producer and New York Times best-selling author Brian Grazer. Find our guest on Twitter at CFishman.
If you enjoy gazing up at the stars, I highly recommend these previous interviews:
Podcast: Download (Duration: 1:07:30 — 154.5MB)
Subscribe: Apple Podcasts | RSS | More