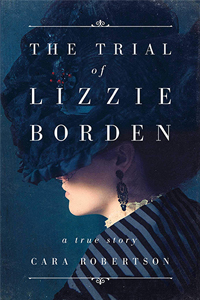 August 10, 2020 – Lizzie Borden has been testified against by generations of children in a nursery rhyme, and continually convicted in the court of public opinion. But did she swing the axe that whacked her parents, or didn't she? We dig into the 1893 murder trial with first-time author Cara Robertson. She brings us The Trial of Lizzie Borden: A True Story
.
Based on transcripts of the proceedings, newspaper accounts, unpublished recollections of citizens in Fall River, Massachusetts — and recently unearthed letters from Lizzie — the book brings us inside a case that shook the deeply held convictions, assumptions and social anxieties of the 19th Century's twilight.
Cara Robertson began researching the Borden case as an undergraduate at Harvard and continued while earning an Oxford PhD and JD from Stanford Law School. She clerked at the Supreme Court of the United States for two justices and served as a legal adviser to the International Criminal Tribunal for the former Yugoslavia at The Hague.
Learn more about the book and cast your verdict — guilty or not guilty — at TrialofLizzieBorden.com.
Podcast: Download (Duration: 55:30 — 127.0MB)
Subscribe: Apple Podcasts | RSS | More