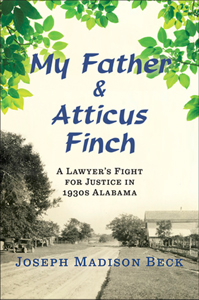 November 14, 2016 – This week, our time machine may sound like it's taking a sideways journey into the fictional world of Harper Lee's iconic book, To Kill a Mockingbird
. We touch down in 1930's Alabama, and find a small town rocked when a black man is charged with raping a white woman. Only one local lawyer dares to defend the accused. That man was Foster Beck, and his son, Joseph Madison Beck, joins us to tell this eerily familiar tale.
Mr. Beck's book is My Father & Atticus Finch
: A Lawyer's Fight for Justice
in 1930s Alabama. Like his father, Joseph Madison Beck practices law. He also teaches at Emory Law School, and has lectured at universities throughout the United States and abroad. As you'll read, the evidence against Charles White is thin, but can even Foster Beck's heroic defense and an open-minded judge save him from a death sentence?
Brighten your day.
Podcast: Download (Duration: 44:05 — 40.4MB)
Subscribe: Apple Podcasts | RSS | More