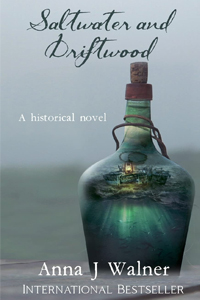 September 3, 2022 – On the morning of September 8th, 1900, disaster struck the vibrant, prosperous island of Galveston, Texas, tearing out its heart. In this episode, our time machine travels back to the turn of the last century to meet sixteen-year-old Clara and the Gladys family, against the backdrop of the worst natural disaster to ever strike the United States — that killed between 6,000 and 8,000 on the island of Galveston.
Our guide on this journey is international award-winning author Anna J. Walner who brings us Saltwater and Driftwood: A Historical Novel.
Anna is a native Texan and began her career as a fantasy novelist, delivering the Enrovia Series and the four-volume Uluru Legacy, a story of vampires and werewolves.
Visit our guest at AnnaJWalner.com, or on social media through Facebook, Instagram, Twitter and YouTube.

Podcast: Download (Duration: 49:54 — 114.2MB)
Subscribe: Apple Podcasts | RSS | More