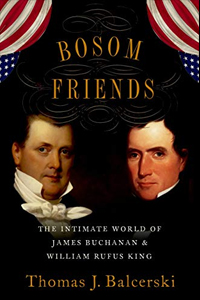 October 18, 2021 – America's only bachelor president has had whispers about his relationship with a certain vice president for almost two centuries. But were they more than friends, and why does the answer matter in 2021?
Our time machine travels back to the pre-Civil War period, to delve into the personal lives of our 15th president, James Buchanan, and his roommate William Rufus King, the 13th vice president — a pair that has long been the target of snickering, insults — and more recently, of celebration.
Our guide on this journey is a historian, not a gossip columnist. Thomas Balcerski and he brings us Bosom Friends: The Intimate World of James Buchanan and William Rufus King. Tom is a presidential and political historian at Eastern Connecticut State University, as well as a contributor for CNN, NBC Connecticut, and Made by History, the Washington Post's history blog. Find him on social media at Twitter, Instagram, Facebook and LinkedIn.
Special thanks to presidential historian Louis Picone for submitting a video question for this interview. Louis has appeared on the History Author Show three times for his books Grant's Tomb: The Epic Death of Ulysses S. Grant and the Making of an American Pantheon, as well as the bookenders Where the Presidents Were Born: The History & Preservation of the Presidential Birthplaces and The President is Dead! The Extraordinary Stories of the Presidential Deaths, Final Days, Burials, and Beyond.


Podcast: Download (Duration: 1:03:59 — 146.4MB)
Subscribe: Apple Podcasts | RSS | More