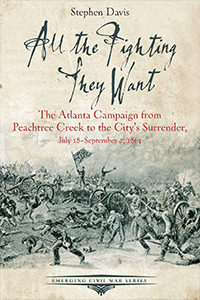 December 11, 2017 – This week, our time machine travels back to the American Civil War in All the Fighting They Want: The Atlanta Campaign from Peach Tree Creek to the City's Surrender, July 18-September 2, 1864
. Our guide on this journey is Stephen Davis, a longtime Atlantan and Civil War enthusiast since the fourth grade. All the Fighting They Want
serves as a companion to his previous paperback, A Long and Bloody Task: The Atlanta Campaign from Dalton through Kennesaw to the Chattahoochee, May 5-July 18, 1864
.
The books are part of the Emerging Civil War Series, published by Savas Beatie LLC. Learn more about their titles at SavasBeatie.com or on Twitter @SavasBeatieLLC.
Stephen Davis has served as Book Review Editor for Blue & Gray magazine for more than twenty years, and you've seen his many articles in scholarly and popular journals. His previous books are 2001's Atlanta Will Fall: Sherman, Joe Johnston and the Yankee Heavy Battalions
, and 2012's What the Yankees Did to Us: Sherman's Bombardment and Wrecking of Atlanta
.

Podcast: Download (Duration: 56:52 — 130.1MB)
Subscribe: Apple Podcasts | RSS | More