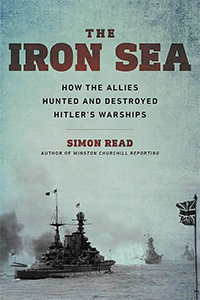 November 1, 2021 – Adolf Hitler infamously told his naval commander-in-chief, Admiral Karl Dönitz, "On land, I am a hero. At sea, I am a coward." But those battles on, under and over the Atlantic decided the fate of the world every bit as much as action in Europe and North Africa.
In this episode, our time machine welcomes back Simon Read who brings us his wildly enjoyable new book The Iron Sea: How the Allies Hunted and Destroyed Hitler's Warships. In our archives, you can find my previous conversation with Simon, that's about 2015's Winston Churchill Reporting: Adventures of a Young War Correspondent.
Simon Read is a former journalist and the author of eight previous nonfiction books. His work has appeared in the San Francisco Chronicle, Publishers Weekly, and TIME magazine. Three of his previous books, including Winston Churchill Reporting and Human Game: The True Story of the "Great Escape" Murders and the Hunt for the Gestapo Gunmen, have been optioned for film and TV adaptations.
Visit our guest at SimonReadWriting.com, or on social media at Twitter, Instagram, Facebook and LinkedIn.


Podcast: Download (Duration: 57:29 — 131.6MB)
Subscribe: Apple Podcasts | RSS | More