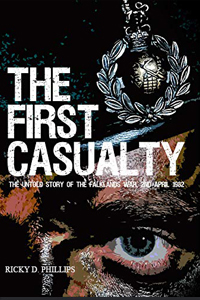 June 14, 2021 – In 1982, the military junta in Buenos Aires had an idea to boost its sagging popularity: Invade the Falkland Islands, a British territory that Argentines called Las Malvinas. Only 60 Royal Marines stood in the way, 8,000 miles from home and cut off from support.
In this week's episode, we bring you "the book they said couldn't be written about the battle that they say never happened," debunking the conventional wisdom that those Marines surrendered without a fight. That narrative does injustice their heroic defense as well as the price paid by the Argentines thrown into a war by leaders who cared little for its soldiers, and sailors on ships such as the doomed ARA Belgrano.
Our guide on this journey is Ricky D. Phillips, who brings us The First Casualty: The Untold Story of the Falklands War. His second book invokes the capital of the Falkland Islands and the soldiers of Argentina writing home, telling a very different story than their government's sunny propaganda tales of victory. That's Last Letters from Stanley: The Unpublished Argentine Battle for the Falklands.
Visit Ricky Phillips at his military history blog, Making History, or find him on Twitter, Instagram, Facebook, LinkedIn.


Podcast: Download (Duration: 1:05:23 — 59.7MB)
Subscribe: Apple Podcasts | RSS | More