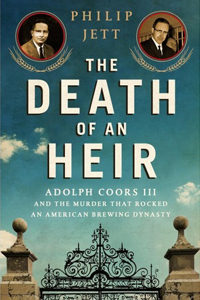 February 26, 2018 – Our time machine travels to 1960 and pulls over at a secluded bridge on a lonely Colorado road. We're there to witness a crime of greed and envy, when a bitter escaped convict with delusions of high IQ snatches the 44-year-old CEO of Coors as he makes his way to the family brewery.
We follow this tale of true crime in the new book: The Death of an Heir: Adolph Coors III and the Murder That Rocked an American Brewing Dynasty
. Sitting beside us in our squad car as the kidnapper pounces is attorney Philip Jett, who brings us this chilling account of the Coors family's gilded American dream that turned into a nightmare.
Find our guest online at PhilipJett.com or @PhilipJett on Twitter.

Podcast: Download (Duration: 42:43 — 97.8MB)
Subscribe: Apple Podcasts | RSS | More