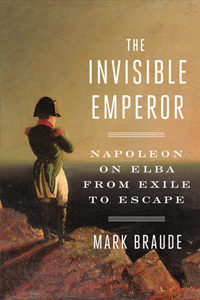 January 28, 2019 – Mark Braude, who we chatted with previously about his book: Making Monte Carlo: A History of Speculation and Spectacle
, brings us the tale of a legendary military leader who's almost too big for the word legend. Napoleon Bonaparte of France. We meet the titan of France not at the peak of his power, but at his low-point: Cast out, kicked off the throne, and walking among the citizens of a tiny island as one of them.
The book is The Invisible Emperor: Napoleon on Elba from Exile to Escape
. Mark Braude is a National Endowment for the Humanities 2017-2018 Public Scholar and former lecturer of history at Stanford University, having earned a Ph.D. in Modern European History from the University of Southern California, as well as a Masters in French Studies from our own New York University.
Visit him at MarkBraude.com.

Podcast: Download (Duration: 1:03:44 — 145.9MB)
Subscribe: Apple Podcasts | RSS | More