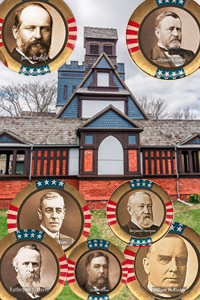 May 22, 2017 – This week, our time machine visits a small Jersey Shore town with big White House history. The spot is The Church of the Presidents in Long Branch, a spot where seven commanders-in-chief vacationed in the Gilded Age.
They started coming to the beach with the man who crushed the Confederacy, General Ulysses S. Grant, and continued through five of the next six — Rutherford B. Hayes, James Garfield, Chester A. Arthur, Benjamin Harrison, and William McKinley. The last man to attend services, also served as New Jersey governor: Thomas Woodrow Wilson.
In the Victorian Era, the sea air was believed to have such rejuvenating powers, that President Garfield was brought to a cottage across from the Church of the Presidents, after being shot by the unhinged Charlie Guiteau. Unfortunately, the cure failed, and Garfield died nearby on September 19, 1881.
Presiding over this week's journey is Jim Foley, president of the Long Branch Historical Museum Association, headquartered at the Church of the Presidents. You can read more about their work to preserve the history of this New Jersey history gem, at ChurchOfThePresidents.org, and keep tabs on their historical events such as their cocktail party fundraiser in August 2017, by liking their Facebook page.

Podcast: Download (Duration: 48:00 — 109.9MB)
Subscribe: Apple Podcasts | RSS | More