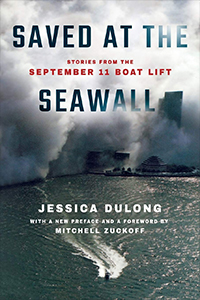 Sep 6, 2021 – Our time machine travels back to a bright morning that turned dark, when ships of all sizes answered cries for help to evacuate Lower Manhattan after terrorists flew planes into the Twin Towers. Our guide on this journey is Jessica DuLong who bring us, Saved at the Seawall: Stories from the September 11 Boat Lift.
Jessica DuLong is an award-winning author, journalist, historian, ghostwriter, book collaborator, proposal doctor, editor, writing coach, and a marine engineer as well. Her previous book is My River Chronicles: Rediscovering the Work that Built America; A Personal and Historical Journey.
Visit JessicaDuLong.com for more, or follower her on Twitter, Facebook, and Instagram. For more on 9/11, check out the History Author Show interview with Governor George Pataki about his book, Beyond the Great Divide: How a Nation Became a Neighborhood.


Podcast: Download (Duration: 56:21 — 129.0MB)
Subscribe: Apple Podcasts | RSS | More