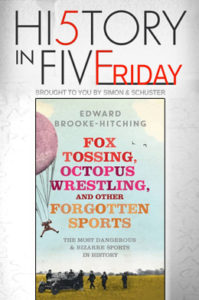 May 6, 2016 – It's History in Five Friday, presented by Simon & Schuster.
Our guest is Edward Brooke-Hitching, and his book is the quirky Fox Tossing, Octopus Wrestling and Other Forgotten Sports
. From Flagpole Sitting (can't imagine why it ever fell out of fashion) to Hot Cockles, time-travel through the most curious, dangerous and downright bizarre sports and pastimes that mankind has ever devised, tried, and realized were quietly best forgotten.
The son of an antiquarian book dealer, Edward Brooke-Hitching became an award-winning documentary director making films that examine the eccentric side of British life. For more, visit EdwardBrookeHitching.com, or follow @FoxTosser on Twitter.
Simon & Schuster's History in Five Friday.
It's the perfect way to kick off your modern weekend…with people from the past.

Podcast: Download (Duration: 4:33 — 4.2MB)
Subscribe: Apple Podcasts | RSS | More