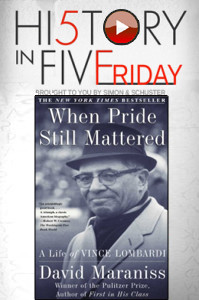 February 5, 2016 – On this Friday before Super Bowl 50, we're going to focus on the name etched into the victory trophy: Lombardi. Best-selling author and historian David Maraniss shares five key facts about the NFL's greatest coach from his biography, When Pride Still Mattered: A Life of Vince Lombardi
.
If you'd like to hear more about the history of football this Super Bowl week, catch our interview with John J. Miller, author of The Big Scrum: How Teddy Roosevelt Saved Football
. It's the story of how the Rough Rider reformed the game, at a time when — as with today's concerns about concussions — some were calling to ban the pigskin pastime.
History in Five Friday.
It's the perfect way to kick off your modern weekend, with people from the past.
Podcast: Download (Duration: 4:44 — 4.3MB)
Subscribe: Apple Podcasts | RSS | More