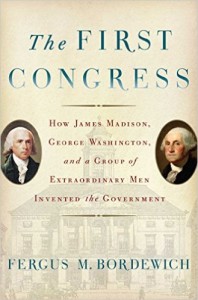 April 4, 2016 – Today, our time machine is whisking us back to the very earliest days of America's republic. Our guest is Fergus Bordewich , and his book is, The First Congress: How James Madison, George Washington, and a Group of Extraordinary Men Invented the Government
. It's the untold story of the most productive Congress in US history, in 1789–1791.
Mr. Fergus Bordewich is the author of six previous books including, America's Great Debate — Henry Clay
, Stephen A. Douglas
, and The Compromise that Preserved the Union, Washington: The Making of the American Capital
, and Bound for Canaan: The Underground Railroad and the War for the Soul of America
. You learn more about these and his other titles at FergusBordewich.com.

Podcast: Download (Duration: 48:53 — 44.8MB)
Subscribe: Apple Podcasts | RSS | More