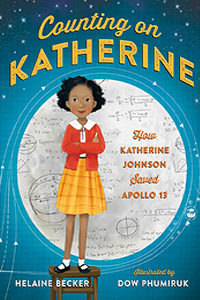 September 10, 2018 – Our time machine rockets to the moon — and misses — aboard the ill-fated Apollo 13. Saving the day is the African-American woman whose mathematical know-how guided the trio of Jim Lovell, Jack Swigert, and Fred Haise safely back home.
As a child, Katherine Johnson loved math, and triumphed with her family's support to learn despite segregated schools of the day. Bringing an out-of-this-word story to life for readers 5 to 9 years of age, is Dow Phumiruk, whose vivid illustrations blast off in Counting on Katherine: How Katherine Johnson Saved Apollo 13
, written by Helaine Becker.
Dow Phumiruk is a pediatrician with a passion for art who enjoys adventures at home, hiking on the trails of Colorado. Visit her online at ArtByDow.com or follow her @DowPhumiruk. We previously discussed Dow's illustrations when we chatted with Jeanne Walker Harvey about their book, Maya Lin: Artist – Architect of Light and Lines
.
A special Happy Birthday to Katherine Johnson, who turned 100 years old just a couple of weeks before this episode's air-date!
Podcast: Download (Duration: 44:10 — 101.1MB)
Subscribe: Apple Podcasts | RSS | More