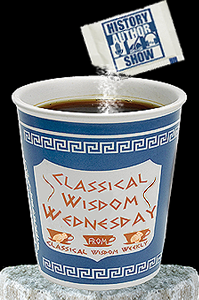 November 4, 2015 – It's Classical Wisdom Wednesday, presented by Classical Wisdom Weekly — bringing ancient wisdom to modern minds, every Wednesday morning before your first cup of coffee.
Today we are visiting with Aristotle, a man who is often considered to be the most influential philosopher to ever live. We are looking at Aristotle's Poetics and we will talk about how the idea of a "good story" has remained essentially unchanged for over two thousand years! Then we will consider the notion that reading tragic literature might actually contribute to our health and well-being.
Your guide through the classical landscape is Van Bryan, Associate Editor of Classical Wisdom Weekly. You can catch Classical Wisdom Wednesday every week before your first cup of coffee, right here on the History Author Show.



Podcast: Download (Duration: 7:46 — 7.1MB)
Subscribe: Apple Podcasts | Android | Google Podcasts | RSS | More